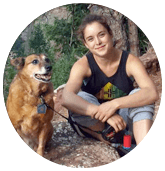 Hi I'm Mackenzie Gardner and I will be your trainer! I received my training certificate in 2014 from the Karen Pryor Academy. My training certificate is specifically in Clicker Training basics.
What is Clicker Training?
The clicker method is a force free, positive reinforcement training.  I like to think of this method as the easiest way to successfully communicate with your dog. The clicker is both a conditioned reinforcer and an event maker. You will be using it to mark desired behaviors. The treats serve as a primary reinforcer. These reinforcements will increase the good behaviors.
---
What will you need?
Clicker

Small Treats/ Kibble
Leash/ Long lead
No-pull harness/ Gentle leader
*Please no choke or prong training collars
---
Individual Dog Training Session: $40/hr
I will come to your home with a tailored program for your dog's needs! Individual sessions are great because you and your dog get 100% of my attention. Individual sessions are also great for dogs that are highly distractible. Starting at home where they are comfortable and familiar with the environment is ideal for these types of dogs.
Puppy Training: $20/ group class
Dog Basics: $20/ group class
---
Louisville / Boulder / Lafayette / Superior / Broomfield / Erie
Off Road Paws offers services in areas of Louisville, Boulder, Lafayette, Superior, Erie and Broomfield. Please contact us with your location, so we can schedule a time to meet you and your pets.